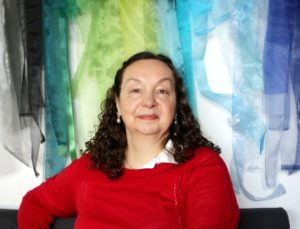 Claire is a self-taught paper enthusiast who developed her passion for paper craft into a professional activity, starting her own stationery company in 2003. Claire studied under French painter Monique Bigle. After moving to Vancouver in 1989, she further pursued her art education with classes and hands-on training in different artistic media: sketching, watercolours, paper making, paper maché , pottery, glass work, art history.
Since 2003, she has been dedicated to creating elegant, unique and design-oriented paper products and original art pieces. These are created at her Richmond studio, and Handmade by Claire is present at various craft and farmer's markets in and around Vancouver, as well as in selected stores and galleries. In addition, she is commissioned to create art pieces for private clients.
Some of Claire's achievements as an artist include:
Selected to participate to prestigious craft shows in Vancouver.
Selected as an artist at the Filberg Festival in Comox for several years
Distributed in several stores and galleries in BC and further.
Claire is passionate about giving back to the community and she consistently volunteers her time to various organizations.
https://www.sdecb.com/entrepreneuriat-fr/paroles-dentrepreneur-claire-huguenot-ou-lart-de-transformer-des-rubans-en-chef-doeuvre
https://ici.radio-canada.ca/premiere/emissions/boulevard-du-pacifique/segments/entrevue/73114/exposition-art-claire-huguenot